Tom Morello Says Upcoming Chris Cornell Tribute Concert Won't Be a Bummer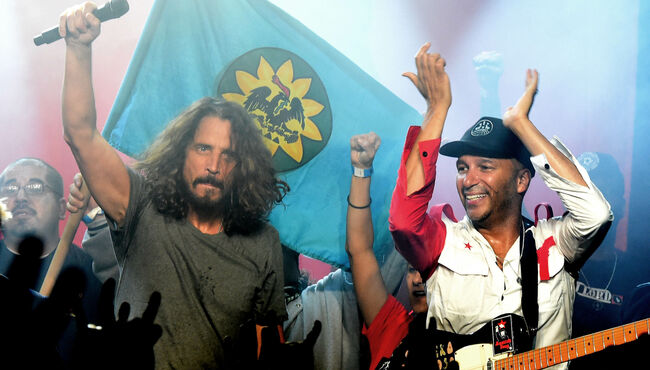 Tom Morello is looking forward to paying tribute to his former Audioslave band mate Chris Cornell at an upcoming charity benefit.
He says he doesn't expect the star-studded night to be a dour one.
"It's not gonna be some mournful, dreary thing," he said in a new interview. "It's gonna be about his awesome music."
The I Am The Highway: A Tribute to Chris Cornell concert is set to take place at the Forum in Los Angeles on January 16, 2019. It will feature Cornell's surviving Soundgarden and Audioslave band mates sharing a stage with Metallica, Foo Fighters and other artists connected to Cornell.
Morello said he's not completely certain yet how the show is going to be organized, but he's happy to take part. He says Cornell was a talent like none other whose contributions to music are difficult to quantify.
"One of the greatest rock singers of all time, and from his spectacular rock god presence to his creation of melody to his very unique voice, I think his greatest contribution might have been that he and his band Soundgarden, with the help of one or two other groups —maybe Jane's Addiction and Living Colour — redeemed hard rock music."
Morello credits Soundgarden's humble aesthetic, it's intellectually rich message and unapologetic heavy rock instrumentation with igniting a wave of alternative music. He says it even opened the door for Rage Against the Machine to hit in the '90s.
Proceeds from I Am the Highway tribute will benefit the Chris and Vicky Cornell Foundation and the Epidermolysis Bullosa Medical Research Foundation.
Morello's latest solo album, The Atlas Underground, is available now. Find all of his tour dates here.
Photo: Getty Images

Ken Dashow
Listen to Ken Dashow everyday on Q104.3 New York's Classic Rock and don't forget about Breakfast With The Beatles every Sunday Morning.
Read more